OP ATHENA is the official Canadian designation for the North Atlantic Treaty Organization's (NATO) mission to Afghanistan which is known as the International Security Assistance Force (ISAF). OP ATHENA was commenced following the successful OP APOLLO mission to Afghanistan which saw Canada deploy land forces to the Afghanistan to fight Taliban elements as well as almost 90% of its naval vessels to hunt down smugglers supplying Al-Qaeda and Taliban operatives.
OP ATHENA is an operation primarily involving Land Force Command assets and it based on the idea of provincial reconstruction teams. A provincial reconstruction team (PRT) in Afghanistan is a military task force originally created by the United States Department of Defence, which defines the goal of the force to be "a catalyst for stabilization, building relationships [with the local population] and enabling Afghanistan's reconstruction and development." While many assume that a PRT operates outside of Kabul, Afghanistan's capital city, the Canadian operation in in the Kabul region, providing engineering and surveillance support to the ISAF mission via the state-of-the-art Canadian military base, CAMP JULIEN.
Carrying on the Canadian commitment to the people of Afghanistan which began in 2002, OP ATHENA provides security and stability to a population which has lived in constant threat of violence for three decades and a chance for good government and prosperity to once again reign in the embattled country.
What exactly is the International Security Assistance Force (ISAF)?
What is the Canadian contribution tasked with doing in ISAF?
Which Canadian Forces Units comprise OP ATHENA right now?
Have there been any Canadian casualties during OP ATHENA?

What exactly is the International Security Assistance Force (ISAF)?
ISAF is a mandated NATO mission under the authority of the United Nations  which is tasked with providing a secure environment for the Afghanistan transitional government and workers of the United Nations' various organizations while they proceed with the rebuilding of that nation. It must be noted that while the mission is UN sanctioned, the UN has no command authority over the troops of ISAF - they are strictly under the command of NATO. Some of the primary goals of ISAF is to train Afghanistan's police forces and national military in order to provide the Afghan government with the means to maintain peace and order. Furthermore the ISAF element within Kabul is in charge of operating Kabul International Airport which has become a vital link in the rebuilding effort of the country. ISAF's area of responsibility in Afghanistan involves sixteen police districts in and around the capital city of Kabul and encompasses nearly eight thousand soldiers hailing from thirty-six nations.
What is the Canadian contribution tasked with doing in ISAF?
The Canadian contribution to ISAF, officially known as Operation ATHENA, has several different goals in terms of its role in Afghanistan. Task Force Kabul , the official moniker for all Canadian military units in Afghanistan, is tasked with enforcing the Government of Canada's primary mission to not see Afghanistan relapse back into a "failed" state where terrorists and other enemies of Canada and its allies can find safe haven. Canada is working through OP ATHENA to provide an environment in which Afghanistan's government can come to meet the demands of its citizens as well as stop terrorism within the nation while permitting it to re-emerge on the international stage. To meet these goals of the Government, Task Force Kabul has various duties as follows:
Ensure freedom of movement in Kabul and the region surrounding the city.

Force protection.

Provide advice to the ATA on security structures and issues.

Assist in the operation of Kabul International Airport.

Assist in the reconstruction of the national armed forces of Afghanistan.
The Canadian commitment to ISAF began in August 2003 and is planned to last a period of twenty-four months (two years).
Which Canadian Forces Units comprise OP ATHENA right now?
OP ATHENA is currently on its second rotation, commonly referred to as ROTO 2 in the military realm. A 'rotation' is basically a sub-division of an overall mission. When a mission lasts more than a year, generally, it is divided in rotations for personnel reasons. Given today's advances in global transportation, it is no longer necessary to leave a military force in one mission area for years (historically, British troops would move their lives to their station as it would be years, if not decades, before they would have the chance to return home). For quality of life reasons, a soldier generally is not deployed away from the country for more than a year at a time. After, for example, six months of being in the mission area, Force A is relieved by Force B. The same makeup of capabilities is generally maintained, unless otherwise required, however the troops in the mission area are fresh. Force A would have been the first rotation in the mission in this example, with Force B comprising the second rotation. Normally the rotation terminology is used with respect to land force elements.
ROTO 2 currently comprises the following units of the Canadian Forces:
An armoured reconnaissance squadron group based on the Lord Strathcona's Horse (LdSH(RC))

An infantry element from the Third Battalion, Princess Patricia's Canadian Light Infantry, to assist the LdSH(RC) squadron

An engineer squadron from 1 Combat Engineer Regiment out of Edmonton

A training cadre whose purpose is to provide instruction to the Afghan National Army

A National Command Element linked directly to the Chief of the Defence Staff in Ottawa

A National Support Element from 1 Service Battalion in Edmonton

B Company from the First Battalion, Princess Patricia's Canadian Light Infantry [who serve as the guard for CAMP JULIEN]

A Health Support Squadron based out of 1 Field Ambulance

An airlift element based out of CAMP MIRAGE, the Canadian sustainment base location in southwest Asia

An infantry element from 38 Canadian Brigade Group providing force protection for CAMP MIRAGE
Have there been any Canadian casualties during OP ATHENA?
As with all missions, whether they be combat or peacekeeping, there is always the risk of casualties and OP ATHENA has been no exception. To date three Canadian soldiers have lost their lives in performing their duties during OP ATHENA and several others have been wounded.
02 October 2003
During a routine patrol through the streets of Kabul, a Canadian Iltis struck an explosive device planted by terrorist forces. The resulting explosion tore the vehicle to shreds and results in the deaths of Sergeant Robert Alan Short and Corporal Robbie Christopher Beerenfenger. Injured in the explosion were Master Corporal Jason Cory Hamilton;, Corporal Cameron Lee Laidlaw and Corporal Thomas Stirling.
27 Jan 2004
Just two months after the horrible mine-strike which resulted in two Canadian soldiers were killed, the Canadian mission in Kabul experienced its first direct terrorist attack when a suicide bomber threw himself at a patrol convoy, resulting in another Canadian soldier falling in the line of duty. Cpl. Jamie Brendan Murphy of Newfoundland was killed and three of his comrades injured in the attack. Among the injured was Lt. Jason Feyko, Cpl. Richard Newman, and Cpl. Jeremy Macdonald.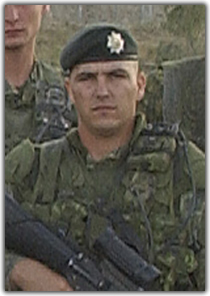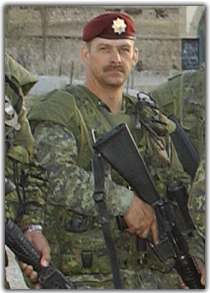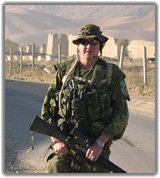 Left to Right: Cpl. Beerenfenger, Sgt. Short, Cpl. Murphy
| | | | |
| --- | --- | --- | --- |
| Incident | Name | Status | Unit |
| 02 Oct 2003 | Cpl. Robbie Christopher Beerenfenger | Killed | 3RCR |
| 02 Oct 2003 | Sgt. Robert Alan Short | Killed | 3RCR |
| 02 Oct 2003 | MCpl. Jason Cory Hamilton | Injured | 3RCR |
| 02 Oct 2003 | Cpl. Cameron Lee Laidlaw | Injured | 3RCR |
| 02 Oct 2003 | Cpl. Thomas Stirling | Injured | 3RCR |
| 27 Jan 2004 | Cpl. Jamie Brendan Murphy (26) | Killed | 1RCR |
| 27 Jan 2004 | Lieutenant Jason Matthew Feyko (30) | Injured | 3RCR |
| 27 Jan 2004 | Corporal Richard Michael Newman (23) | Injured | 3RCR |
| 27 Jan 2004 | Corporal Jeremy Gerald MacDonald  (28) | Injured | 3RCR |